This week TLOS saw a massive price increase thanks to new interest in the technology and ecosystem behind the coin. Investorplace.com reports about their growth and 2022 roadmap.
It appears investor interest in layer-1 blockchain ecosystems was not left back in 2021. Indeed, this morning is seeing trading volume of a whole host of layer-1 coins trending up today. But perhaps most surprising is the boom in interest around the Telos (CCC:TLOS-USD) ecosystem. The Telos crypto is undergoing a massive growth period to start the year, and it is rapidly climbing the list of the world's largest cryptos.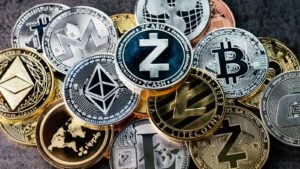 Source: Shutterstock
Telos is a layer-1 that — like all other layer-1 ecosystems — seeks to dismantle Ethereum (CCC:ETH-USD) as the largest platform of its kind. It boasts 10,000 transactions per second on its network, which poses great challenge to Ethereum's less than 100 transactions per second. Moreover, it promises no gas fees from the network on transactions. Eco-conscious crypto investors are happy to see also that Telos purchases carbon offsets to counter network energy consumption.
Transaction speed remains one of the most important facets dictating the success of new layer-1 projects. Indeed, Ethereum is by far the largest app platform available in the blockchain industry. Yet, it is also one of the lowest scaling. As more users flood into the space, they will produce more transactions. Of course, this will lead to ever-higher gas fees and ever-lower transaction speeds. Thus, Telos' main appeal is that it is more capable than Ethereum is in accommodating all of these users. Not to mention, the network already hosts over 100 dapps.
Telos Crypto Sees Big Gains as Investors Seek Layer-1 Alternatives
The Telos crypto, TLOS, is having a huge start to the week, posting some impressive gains. TLOS is up 30% so far this morning, and it continues to build. Moreover, transaction volume of the coin is booming; nearly $13 million in TLOS is trading hands today, making for a 160% increase in volume over yesterday.
The gains come from a grander desire to find layer-1 platforms that can challenge not only Ethereum, but other close competitors as well. Solana (CCC:SOL-USD), for example, is a network that Telos seeks to overtake. With the issues Solana is plagued with not seeming to go anywhere, investors are likely looking for something more reliable in TLOS. And considering TLOS' low prices when compared to ETH and SOL and its room to grow, it is a savvy investment in the layer-1 space.
Telos' development team is capitalizing on the momentum it's seeing to start the year. The team is sharing its January recap today, highlighting the successes the network has seen in the first month of the year. Highlights include the project naming a new board and inking partnerships with industry bigwigs like DappRadar. Obviously, the project is wasting no time checking boxes on its 2022 roadmap.
DISCLAIMER: Although the material contained in this website was prepared based on information from public and private sources that telosfly.com believes to be reliable, no representation, warranty or undertaking, stated or implied, is given as to the accuracy of the information contained herein, and telosfly.com expressly disclaims any liability for the accuracy and completeness of the information contained in this website.